Douglas Fir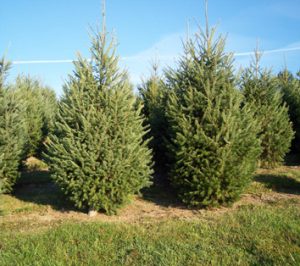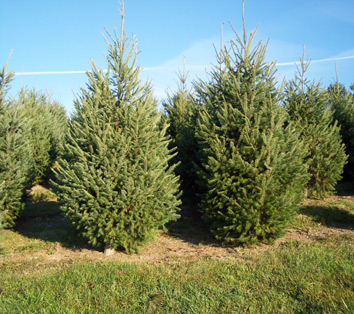 This is the beautiful Douglas Fir. Because of its classic triangular Christmas Tree shape, the Douglas Fir is the preferred tree of many visitors to Bell's Christmas Tree Farm. The needles are dark green 1 to 1 1/2 inches long, soft to the touch and radiate out in all directions from the branch. Its excellent needle retention makes the Douglas Fir one of our favorites.
Serbian Spruce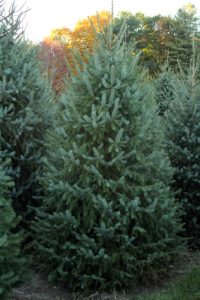 The Serbian Spruce, a tree native to northern Europe and northern Asia, is now available at Bells Christmas Tree Farm. The Serbian is one of the few spruces with flat needles like a hemlock, not the four-sided needles of most spruces.
The short needles are lustrous dark green above while the underside has two broad, white stomatal bands. These bands collectively standout, creating a unique silvery contrast that is very effective when the upswept branches move in the wind.
Colorado Blue Spruce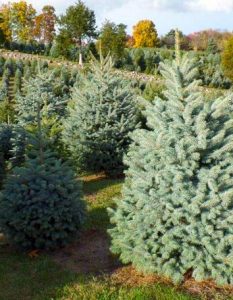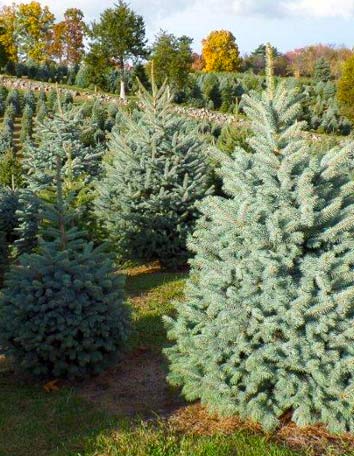 This is the beautiful Colorado Blue Spruce. The needles range in color from dark green to bright blue. The Colorado Blue Spruce has short, sharp, very strong needles with good needle retention if kept watered. The needles are 1-1 1/2 inches long on lower branches but somewhat shorter on upper branches. They are 4-sided and have a very sharp point on the end. It is this point which gives the species its name "pungens", from the Latin word for sharp, as in puncture wound. Needles are generally dull bluish-gray to silvery blue.
Caanan Fir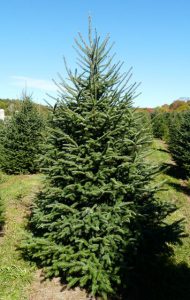 The Caanan Fir is a short needled tree known for its wonderful fragrance and excellent needle retention. The soft needles are usually green to blue green.
Meyer Spruce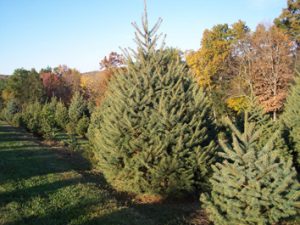 The Meyer Spruce is similar in many ways to the Colorado Blue Spruce, but with much softer needles. The strong branches on these trees are great for hanging heavy ornaments.
It is usually a very dark green in color, with short rich blue-green needles that are very even in length. Branches are symmetrical about the trunk and the tree has excellent needle retention.
Fralsam Fir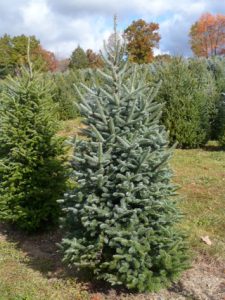 The Fralsam Fir pictured here is a hybrid cross of the Balsam and the Fraser Trees.
The Fralsam produces 10% to 20% more buds than its parent trees, therefore filling out to a very full tree with dense needle cover.
Grand Fir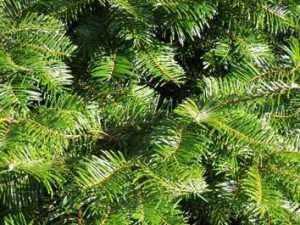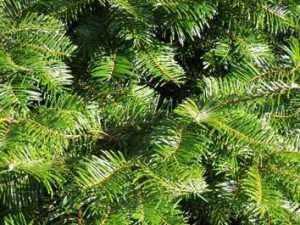 The Grand Fir (above) is easily distinguished by its sprays of lustrous needles in two distinct rows. The needles are arranged on either side of the twigs creating an impression of many horizontal layers adding up to create an elegant Christmas tree.
The needles are 1 to 1 1/2 inches long with glossy dark green tops and two highly visible white lines of stomata on the undersides. They have small buds and a slightly more delicate look than a Fraser Fir. Like all the Firs they have a wonderful fragrance and excellent needle retention.
Korean Fir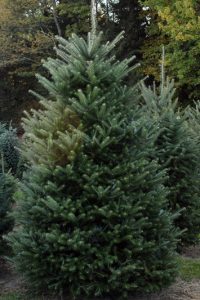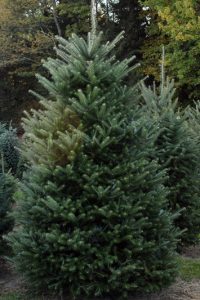 The pyramidal shaped Korean Fir has flat, blunt needles and tiered, horizontal branches.
Needles are a nice bright green with a bright white underside – truly striking no matter how you look at it.
Balsam Fir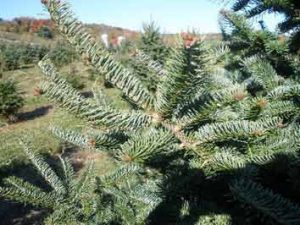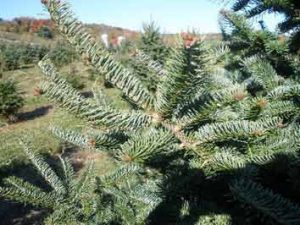 The Balsam Fir is a classic, known for its fragrance, exhibiting a relatively dense, dark-green, pyramidal crown with a slender spire-like tip. Above is a close view of the classic Balsam Fir.
Fraser Fir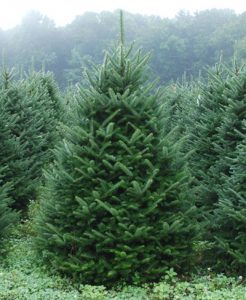 The Fraser Fir (above) is known as the "Cadillac" of Christmas Trees. Its excellent needle retention, signature aroma and firm branches make it the ideal tree for many tree seekers.
Concolor Fir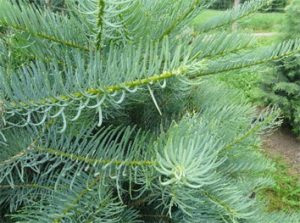 The Concolor Fir, above, is the perfect pyramidal Christmas tree shape with horizontally tiered branches. The long, flat, soft needles are silvery blue-green both above and below and they have a slight citrus smell when broken. This tree is also considered to be more "hypoallergenic" than other varieties and is the tree of choice for many people with mild allergies.
Korean/Corkbark Cross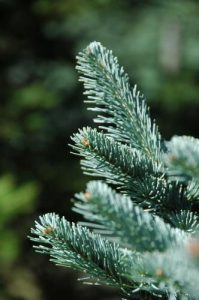 The Korean/Corkbark cross is considered an exotic tree species and has a unique look and feel. It has a soft needle with a bluish-green color.