🌲

🌲

🌲

🌲

🌲

🌲

UPDATE 12/8/20

🌲

🌲

🌲

🌲

🌲

🌲
We are officially SOLD OUT and are CLOSED for the season!
After a careful survey of our fields yesterday we have made the incredibly difficult decision to close for the season. We have had such overwhelming interest this year that we have sold out of trees. Staying open any longer might put in jeopardy our ability to have enough trees for next year. We do not make this decision lightly and we are sorry for anyone we have disappointed, especially our long term, loyal customers and neighbors. Please spread the word.
This is the first time we have ever had to do this and we know it is a hard adjustment for those who were still planning to come. Last we heard the following farms were still open and selling trees:
Marshall's Tree Farm Whitfield Rd Accord
Maplehorst Farm 151 Rapp Rd, Monticello
Battenfelds' Tree Farm 856 Route 199 Red Hook
Anyone who has pre-paid for special order wreaths or greenery already, we will be in touch with you to arrange pick up of your purchase.
We thank you for being a bright spot in what has been an incredibly difficult year for so many people and we look forward to seeing you again next year!
Our goal is to provide quality, fresh cut trees to smiling faces year after year. We think the enthusiasm, hard work, knowledge, and atmosphere we provide will make your day nothing less than memorable.
We planted our first trees as a hobby in 1991 on our family run dairy farm in Accord, New York, nestled between the Shawangunk Ridge and the foothills of the Catskills. From establishing transplant beds, to grooming the various shapes and sizes of Christmas trees, we hope our hard work and detail that go into each tree will warm your home during the holiday season.
With the recent events and the impact of Covid-19 we have new procedures in place to ensure everyone's safety at our farm.
If anyone in your group has Covid-19 or related symptoms or have been exposed to anyone with those conditions in the last 14 days please do not come to our farm.
Masks are required
Social Distancing will be enforced
Rigorous sanitization procedures
We encourage you to bring your own saw but NO CHAINSAWS ALLOWED
Visit our Tree Farm during the Holiday Season to Choose and Cut your own Christmas Tree!
Our Cozy Gift Shop features local maple syrup, honey and handcrafted soaps
Handcrafted Wreaths, Kissing balls, Swags and Mailbox Huggies are made right on our Farm
White Pine Roping is available
We are open the day after Thanksgiving thru December 23,
We support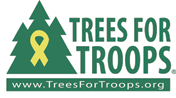 https://christmasspiritfoundation.org/
Proud member of

Proud to be