Our goal is to provide quality, fresh cut trees to smiling faces year after year. We think the enthusiasm, hard work, knowledge, and atmosphere we provide will make your day nothing less than memorable.
We planted our first trees as a hobby in 1991 on our family run dairy farm in Accord, New York, nestled between the Shawangunk Ridge and the foothills of the Catskills. From establishing transplant beds, to grooming the various shapes and sizes of Christmas trees, we hope our hard work and detail that go into each tree will warm your home during the holiday season.
Visit our Tree Farm during the Holiday Season to Choose and Cut your own Christmas Tree!
Our Cozy Gift Shop features decorations, local maple syrup, honey and many handcrafted items that make great gifts!
Handcrafted Wreaths, Greenery, Swags and Mailbox Huggies are made right on our Farm
White Pine Roping is available
We are open the day after Thanksgiving and will stay open until we are sold out of this years trees. The last two years we have been open the weekend after Thanksgiving, the first weekend of December and the week in between (minus Tuesday as we are always closed Tuesdays). We anticipate the same for this year (2022) so come early!
We support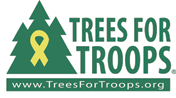 https://christmasspiritfoundation.org/
Proud member of

Proud to be