FAQ's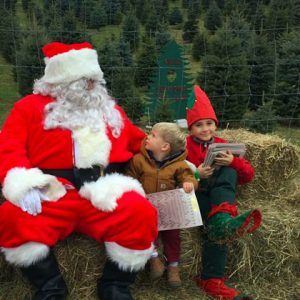 Are you open 7 days a week?
No, we are closed on Tuesdays.
Do the tiny trees also cost $70?
Yes, believe it or not there is a lot of time invested in even the smallest tree. It takes about 4 years to get a new tree to knee height and many die along the way and must be replanted. Due to all of these reasons we must charge full price for them.
Do you have small trees if my child wants a tree for their room?
Yes. You can either pay full price ($70) for one you cut in the field or we have small potted trees available starting at only $15  . Then they get to plant it in the spring and watch it grow too!
Is smoking allowed on the property?
NO! We want all of our guests to enjoy the fresh farm air and want to create a safe environment, especially for our youngest guests. In this spirit we do not allow smoking on the property.
Will we have a food vendor again this year?
YES! Vinnie's Fine Foods will be back this year with their yummy selection of warm foods and drinks. Come hungry!
https://www.facebook.com/Vinniesfinefoods
How much do Bell's Christmas Trees cost?
All U-cut trees are $70. Free drilling, shaking and baling.
Pre-cut trees are $80.
Do I need my own saw?
We will provide a saw, or we offer pre-cut trees.  You are welcome to bring your own saw but chain saws are not permitted.
Do you provide twine to tie the tree on my car?
We do have twine here that customers can use (at no charge) but we cannot guarantee we will be able to keep up with demand, so if you have your own tie downs we do recommend you bring them.
Do you have drilled trees?
Yes, we drill trees for no additional charge, if they are purchased on the farm. Only trees up to 8 feet can be drilled. We also sell drilled tree stands as well.  Drilling is only needed if you have a "pin" stand, it does not affect water uptake or how long your tree lasts.
What year did you start planting Christmas Trees?
Our first trees were planted in 1991
What is a "mitten tree"?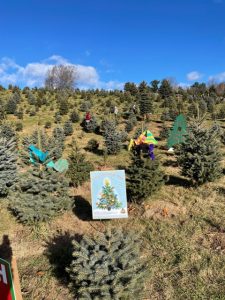 Each year we encourage our customers to bring in new or lightly used hats, gloves and scarves. We hang them on our mitten tree for a few days and then deliver them to Family of Ellenville to be distributed to neighbors in need.  Please consider contributing to this tradition!
Fun Facts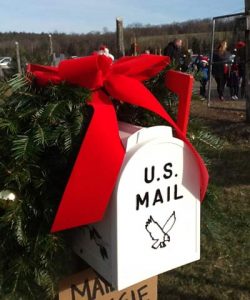 There are about one million acres in production for growing Christmas Trees in the US.
Christmas trees remove dust, pollen and CO2 from the air as they grow.
Each acre of trees provides oxygen requirements for 18 people.
It takes 7 - 10 years for a tree to grow from a seedling to an approximate size of 8'.
For every Christmas tree harvested, a seedling is planted in its place. Real Christmas trees are biodegradable and will eventually decompose to provide essential organic matter.
After Christmas, trees can be mulched for garden compost, used for a fragrant bonfire or provide a habitat for wildlife.
We are often asked. what do we do the rest of the year?
Not this!!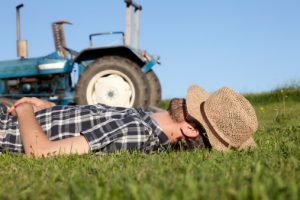 Planting and maintaining trees is a full time, year round job but we also make and sell topsoil, hay and have a gravel bank where we sell various types of gravel. Click here for information on  Topsoil, Gravel, Hay
Grinding Stumps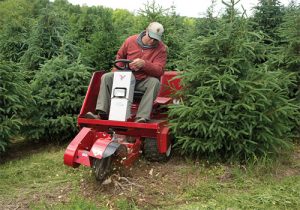 Planting Trees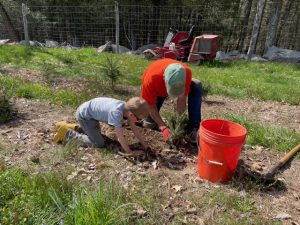 Picking Cones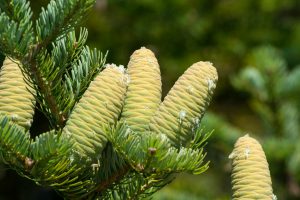 Trimming Trees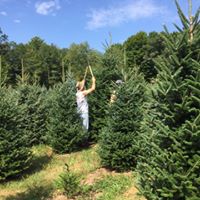 Mowing the fields